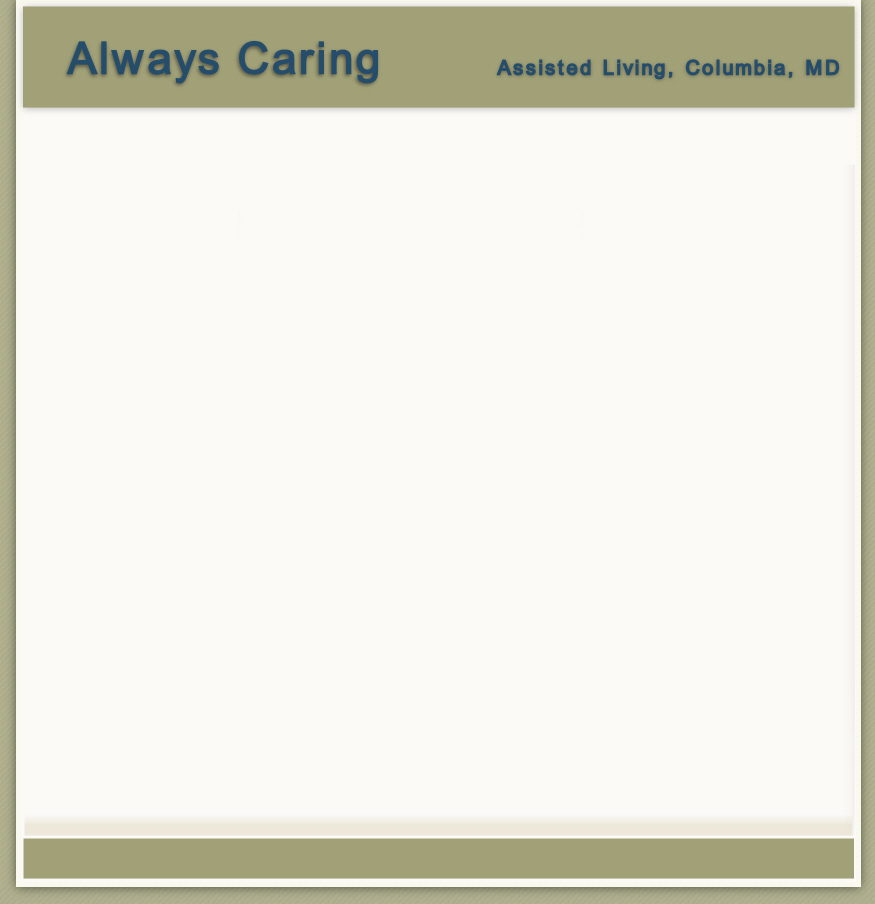 Always Caring Assisted Living Group Homes For The Elderly
Affordable Geriatric Assisted Living Care and Residential Group Homes, Columbia, Maryland, MD. Serving Ellicott City, Clarksville, Howard County, Montgomery County, Frederick County, Carol County, Anne Arundel County and Baltimore County, Maryland; as well as the greater Washington DC and Baltimore metropolitan region, including Virginia and Pennsylvania. Assisted living care services include long term care, short term respite care, Alzheimer and dementia care, hospice care, nursing and rehab care for those elderly residents with chronic illness and disease or requiring professional geriatric care.
Affordable Web Sites by ReinfeldDesigns.com
Assisted living for the elderly



home
about
testimonials
locations
resources
site map
services
contact
photos
Always Caring Assisted Living, Columbia, Howard County, Maryland. For more information please call: 1-410-730-3838. © 2000 to 2017 Copyright Always Caring assisted living. Full service assisted living homes caring for the elderly in Columbia, Howard County, Maryland. Offering affordable long term care, short term care, respite care, alzheimer and dementia care, hospice care, nursing and rehab care. About Page update 5/16/17 .






Always Caring Assisted Living is part of a unique and growing trend in alternative assisted living options, serving seniors with varying health concerns and special needs. Always Caring Assisted Living homes are privately owned and operated by Tim and Elva Belton. They offer specialized support services for those who need regular assistance with daily activities and who may otherwise be at risk for nursing homes.
Always Caring offers small and intimate family style communities. Our trained service-oriented staff are dedicated to providing our elderly and geriatric residents the most supportive and nurturing environment possible. Our goal is to help residents retain their personal independence and quality of life.
Always Caring offers a high ratio of staff to residents. This naturally optimizes the quality of care received. Residents enjoy a combination of personalized attention and specific care. This affords them the opportunity to maintain their dignity, garner respect, and above all, maximize their independence and well-being while minimizing costs.
Call or email today for your free no obligation consultation and find out if Always Caring assisted living of Columbia, Maryland is right for you.
next >