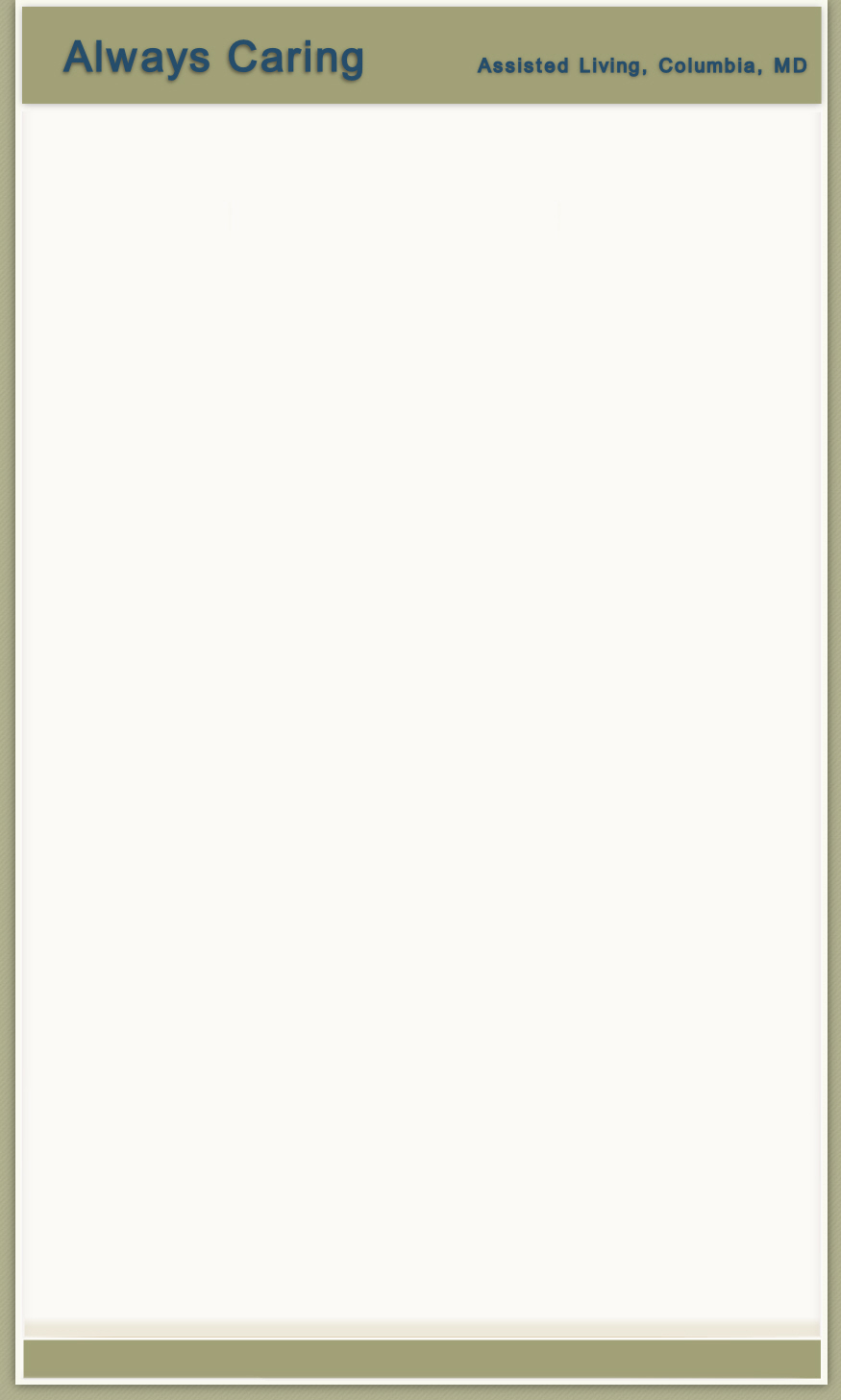 Always Caring Assisted Living Group Homes For The Elderly
Affordable Geriatric Assisted Living Care and Residential Group Homes, Columbia, Maryland, MD. Serving Ellicott City, Clarksville, Howard County, Montgomery County, Frederick County, Carol County, Anne Arundel County and Baltimore County, Maryland; as well as the greater Washington DC and Baltimore metropolitan region, including Virginia and Pennsylvania. Assisted living care services include long term care, short term respite care, Alzheimer and dementia care, hospice care, nursing and rehab care for those elderly residents with chronic illness and disease or requiring professional geriatric care.
Affordable Web Sites by ReinfeldDesigns.com

home
about
testimonials
locations
resources
site map
services
contact
photos
Always Caring Assisted Living, Columbia, Howard County, Maryland. For more information please call: 1-410-730-3838. © 2000 to 2017 Copyright Always Caring assisted living. Full service assisted living homes caring for the elderly in Columbia, Howard County, Maryland. Offering affordable long term care, short term care, respite care, alzheimer and dementia care, hospice care, nursing and rehab care. Assited Living Care Page update 5/16/17 .





Assisted Living Care 1 of 3
For more information, please call 1-410-730-3838 to learn more about our assisted living homes, individualized care services, affordable rates and excellent references.
next > Affordable Rates and Flexible Care Plans

Intimate and Tranquil Homelike Setting

24 Hour On-Site Supervision

24 Hour Emergency Response

24 Hour On-Call Nursing Care

Medication Management

Geriatric and Dementia Care

Professional and Certified Staff

Fun Social and Stimulating Activities

Nutritious, Tasty Home Cooked Meals

Accommodate Special Dietary Needs

Transportation to Doctor's Appointments

Personalized and Group Transportation

House Cleaning, Linen and Laundry Services

Daily Personal Assistance

Private and Semi Private Rooms

On-Going Family Support

State Licensed Assisted Living Health Care Program
Assisted Living Care Services
Our Care Services: Always Caring assisted living care services include helping our residents with medication, showering, washing, grooming or dressing. We also meet the needs of those who are physically challenged and more severely disoriented. We offer affordable care packages to reflect the specific needs of our residents. Our experienced staff are compassionate and nurturing, providing 24 hour on-site supervision.