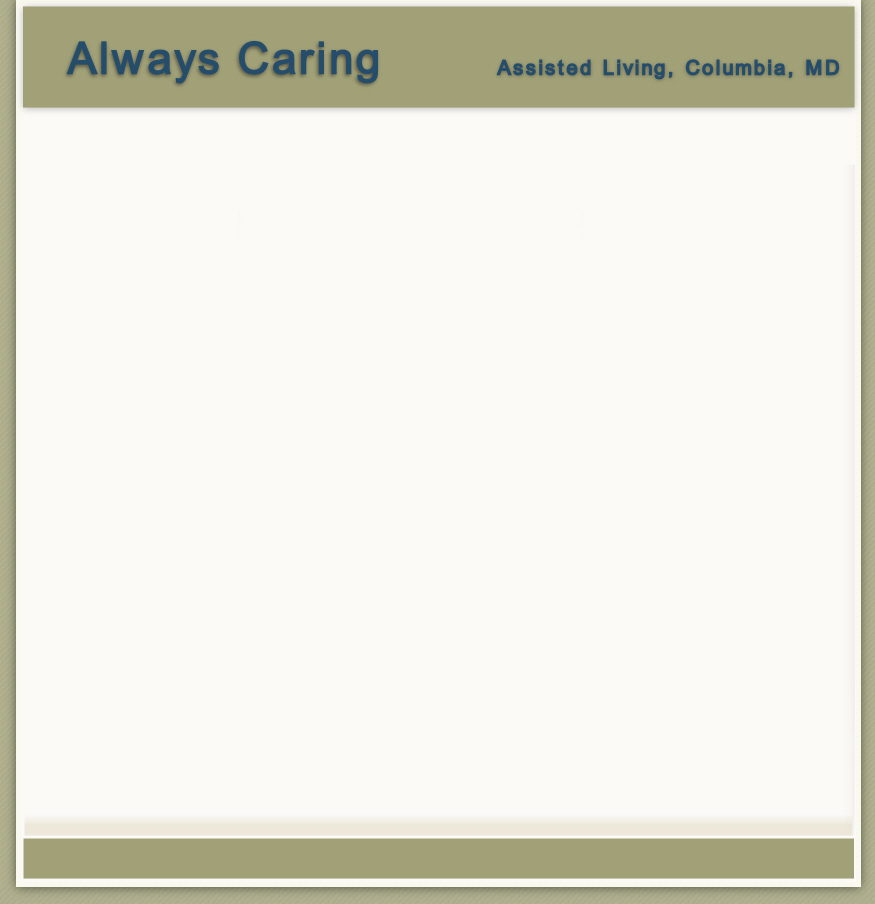 Always Caring Assisted Living Group Homes For The Elderly
Affordable Geriatric Assisted Living Care and Residential Group Homes, Columbia, Maryland, MD. Serving Ellicott City, Clarksville, Howard County, Montgomery County, Frederick County, Carol County, Anne Arundel County and Baltimore County, Maryland; as well as the greater Washington DC and Baltimore metropolitan region, including Virginia and Pennsylvania. Assisted living care services include long term care, short term respite care, Alzheimer and dementia care, hospice care, nursing and rehab care for those elderly residents with chronic illness and disease or requiring professional geriatric care.
Affordable Web Sites by ReinfeldDesigns.com
Assisted living for the elderly



home
about
testimonials
locations
resources
site map
services
contact
photos
Always Caring Assisted Living, Columbia, Howard County, Maryland. For more information please call: 1-410-730-3838. © 2000 to 2017 Copyright Always Caring assisted living. Full service assisted living homes caring for the elderly in Columbia, Howard County, Maryland. Offering affordable long term care, short term care, respite care, alzheimer and dementia care, hospice care, nursing and rehab care. Assisted Living Care 3 Page update 5/16/17 .






Activities and Daily Life Programs
Our residents enjoy a calm and stable environment, with daily meals and activities. The structured routine helps people with memory loss to feel secure, while our social activities give purpose and a sense of well-being. Residents further enjoy regular outings to restaurants, parks, and shopping. In-home activities include bingo, memory enhancing games, old time movies and birthday celebrations.
We are a Maryland state licensed assisted living health care program. We offer 24 hour emergency response and professional nursing care, as well as medication management, dementia and geriatric care.
We offer flexible care plans, assessed prior to admission. We are committed to discovering creative financial solutions for our residents. Please feel free to call us to learn more about Always Caring rates and care plans.
Assisted Living Care 3 of 3
next >