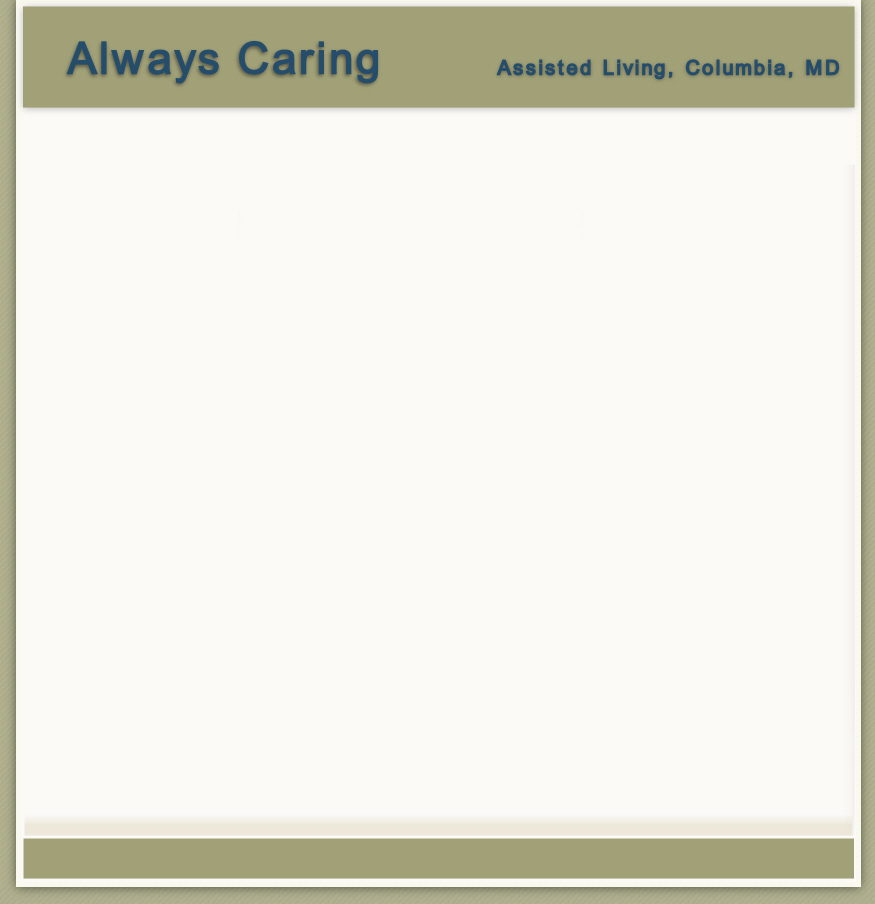 Always Caring Assisted Living Group Homes For The Elderly
Affordable Geriatric Assisted Living Care and Residential Group Homes, Columbia, Maryland, MD. Serving Ellicott City, Clarksville, Howard County, Montgomery County, Frederick County, Carol County, Anne Arundel County and Baltimore County, Maryland; as well as the greater Washington DC and Baltimore metropolitan region, including Virginia and Pennsylvania. Assisted living care services include long term care, short term respite care, Alzheimer and dementia care, hospice care, nursing and rehab care for those elderly residents with chronic illness and disease or requiring professional geriatric care.
Affordable Web Sites by ReinfeldDesigns.com
Assisted living for the elderly



home
about
testimonials
locations
resources
site map
services
contact
photos
Always Caring Assisted Living, Columbia, Howard County, Maryland. For more information please call: 1-410-730-3838. © 2000 to 2017 Copyright Always Caring assisted living. Full service assisted living homes caring for the elderly in Columbia, Howard County, Maryland. Offering affordable long term care, short term care, respite care, alzheimer and dementia care, hospice care, nursing and rehab care. Long Term Care Page update 5/16/17 .






Our professional staff help our elderly residents with medication management, showering, washing, grooming and dressing. We provide nutritious and healthy meal plans, transportation to doctor appointments, as well as entertaining activities. We truly pride ourselves in providing not only affordable accommodation, but also a home away from home, where your loved one can feel safe, secure, nurtured and happy.
Long Term Residential Care Homes
next > Always Caring assisted living homes provide service orientated long term care for those elderly that can no longer care for themselves. Our comfortable homes are staffed 24 hours a day with on call nursing supervision. Our residents include those with physical challenges, requiring hospice or geriatric care to those individuals severely disorientated with dementia or Alzheimer's.
Always Caring assisted living homes provide affordable care packages to reflect the specific needs of our residents. Our compassionate and caring staff are trained to meet the special needs of your loved one. We are conveniently located between Washington DC and Baltimore in Columbia, Maryland. Please email or call 1-410-730-3838 to learn more about our individualized services, affordable rates and excellent references. Find out more about Always Caring assisted living homes and our care services.